Singapore Intercultural School Preparing Students for Inspiring People
Finding the right education system to prepare their children for the future ahead, is one of the main challenges facing parents today. The Millennial parent is demanding and wants to be engaged in the process of teaching methodologies.
---
Singapore-style education has been assessed as one of the best worldwide, by all three leading research projects Trends in International Mathematics and Science Study (TIMSS), Progress in International Reading Literacy Study (PIRLS) and Programme for International Student Assessment (PISA). It's only fitting that more and more schools these days are adapting some part or the Singapore Curriculum in a quest to nurture successful students.
With two decades of experience in adopting the Singapore educational curriculum, Singapore Intercultural School is a benchmark for high-quality teaching and learning standards. In early 1996, leading members of the Jakarta business community initiated meetings with prominent people from the Singapore's education system, Deputy Prime Minister of Singapore and the Education Minister. SIS Group of Schools was established a year later to answer the educational needs of expatriate and Indonesian children.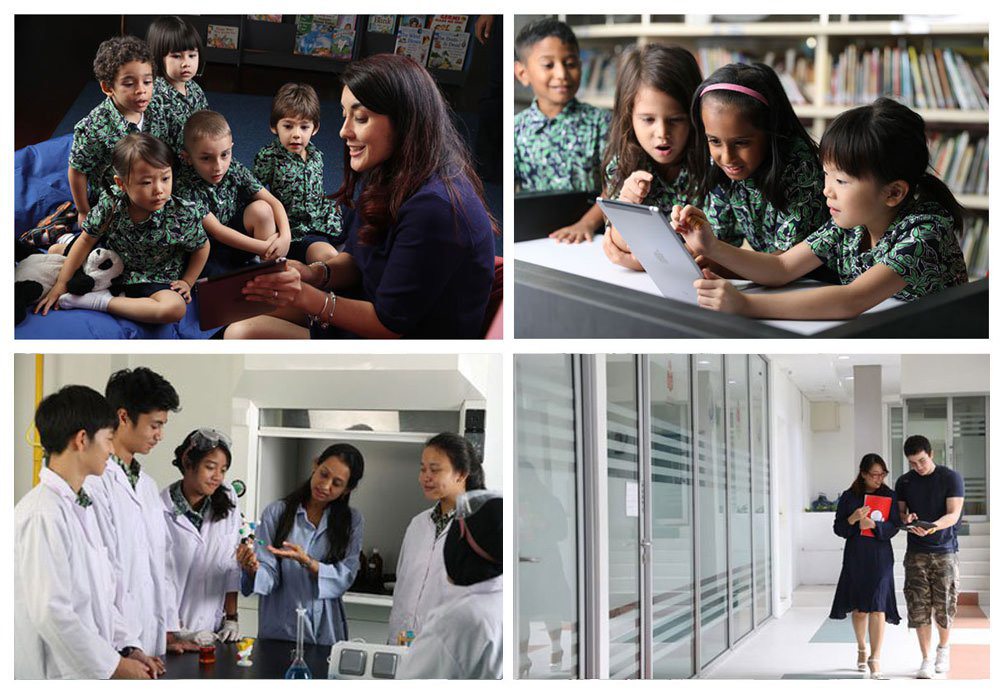 The original campus, SIS Bona Vista, started humble from an abandoned clubhouse located in Bona Vista, a housing complex in South Jakarta. The location borders the prominent Pondok Indah area and is only a short drive from the Jakarta Outer Ring Road, making the school easily accessible for many. By 2002, SIS Bona Vista welcomed everyone to its new home with bigger classrooms and better facilities. Currently the school offers comparable facilities to top international schools in Jakarta, including a swimming pool and Aqualand, soccer field, basketball court, volleyball/futsal court, theatre, science laboratories, smart boards and 3 libraries.
Today, with a steady increase of enrolment, SIS Group of Schools operates seven campuses across Indonesia, including SIS Medan, SIS Palembang, SIS Semarang, SIS Cilegon, SIS Pantai Indah Kapuk, SIS Kelapa Gading and SIS Bona Vista as the flagship campus.
What matters most when it comes to producing exceptional graduates are the teaching and learning programmes, as well as how effective these are for establishing the right path for children.
Education at SIS is more than just teaching; it's about inspiring their students to learn. "We believe curiosity is the engine of achievement. Which is why we don't only teach —we mentor, stimulate, provoke and engage our students." says Founder and Chairman, Jaspal Sidhu.
"All students are natural learners; they just need to be engaged in a manner that's right for them. Therefore, through years of experience, we have designed an ecosystem that brings out the best in each student. Inspired by Indonesia's potential and Singapore's ever-evolving methodology, our network of schools offer the Singapore, Cambridge and IB Diploma curricula in a family-like environment that prioritises personalised learning. With an unparalleled proficiency in English, Math, Science, enriched by the humanities, regional languages and the Arts, your child is equipped with the best 21st century skills at SIS" adds Mr Sidhu.
The School spans the entire learning spectrum from pre-school to junior college (or high school). It focuses on helping students discover their potential and learning how to make the best use of their skills. The Curriculum looks at three main areas: life skills, knowledge skills and content-based subjects such as Languages, Humanities & the Arts and Mathematics & Sciences.
The pre-school programme, under Nurturing Early Learners Framework (based on the Singapore curriculum), is open to children from the age of 2. Young learners, from 2-year-old Play Club pupils to 6-year-old Kindergarten 2 students get to learn necessary skills in six learning areas of Language and Literacy, Numeracy, World Discovery, Motor Skills Development, Social and Emotional Development and Aesthetic and Creative Expression, as well as Information Technology (IT) and Mandarin language introduction.
In the primary years, the curriculum continues to be based on the Singapore system, and focusses on the foundation of Maths, Science, English and Chinese, as well as Sports and Arts programmes. It also aims to equip our learners with social skills. While the three main subject areas are mandatory, SIS Bona Vista introduces its students to other useful disciplines such as Bahasa Indonesia, Information and Communication Technology, PPKN and Religion. The program in the secondary school is based on the Cambridge curriculum. In SIS Bona Vista the secondary school students are encouraged to explore their preferences and interest, as they participate in the Community Service Program. The Junior College Programme is based on the International Baccalaureate (IB) Diploma Programme.
SIS also looks to prepare students with 21st century skills through its iconic initiative called PACE (Perseverance, Analytical Thinking, Collaboration & Communication and Entrepreneurism)..
SIS Bona Vista is the first to offer two academic intakes, one from January to December 2017 for Southern Hemisphere universities or colleges, and another from August 2017 to June 2018 for Northern Hemisphere universities or colleges. Using an inquiry-based, modular learning programme, it ensures students will receive exactly the same teaching and learning focus, no matter when they start. This allows parents a more flexible enrolment and helps students to pursue their higher education dream without being restrained to a stiff academic year.
In SIS, education is beyond the academics. Understanding how to communicate and collaborate across cultures, is important in a borderless world. In SIS, it truly is a multi-cultural environment with students, faculty members and personnel from the management team, hailing from over 50 nations across the globe.