Top 5 Video Conferencing Tools
The Best Video Conferencing Tools Today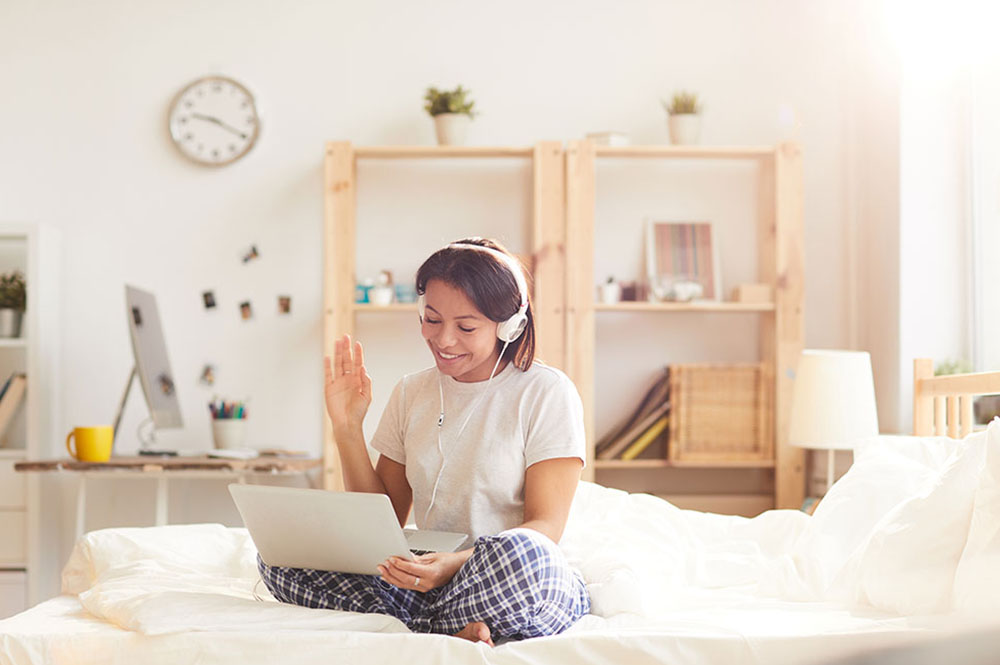 A video meeting with several people in different locations while you talk through a device seemed impossible a couple of decades ago. If you would have said you could see the other person on the telephone while being on a different continent people would have said you're crazy. 
However, video conferencing is widely used by a great number of people and organizations. We don't even think about the absurdity and technological complexity while we do it. As a result, tons of software tools are available today. How can you see wood for the trees? In this blog post, we have selected the 5 best and most popular video conferencing tools for you.
Zoom is our favorite video conferencing tool. The software combines HD video conferencing, online business meetings, webinars, demos, tutorials, and mobile capabilities into one collaborative solution. It also enables you to screen share and lets you take control of other people's screens. 
What's great is that only one person has to download Zoom. The rest of the participants can just join in via the meeting link. The user experience is remarkably good, with no delays and downtime, even for larger teams.
The Basic version is free and allows unlimited 1 on1 meetings. Zoom offers unlimited meetings for two or more participants but caps each meeting at a 40-minute limit. Screen sharing is limited to 25 participants at a time.
Key Features:
Perfect for large teams
Cross-platform messaging
Call Recording
Screen sharing & Control
No need to download
This video conferencing software is a reliable, fast, and easy tool for businesses or schools, whatever the size. It has all the basic video meeting functions such as organizing and attending online conferences, video calls, online training, and screen share and control. The video calls are HD quality and compatible with any device. 
GoToMeeting has over 44 million users worldwide and is still rapidly expanding so the software can be considered as one of the industry leaders. 
Key features: 
Available on all platforms
Drawing tools and a virtual whiteboard
Meeting transcriptions
HD quality
Call recording
Skype is definitely one of the most famous video conferencing tools out there. It was purchased by Microsoft back in 2011 but has existed for over 16 years. Apart from video conferencing, Skype also offers screen sharing so users can share screens while calling each other. Users can also share photos, videos, and files up to 300MB over Skype and quickly find shared content in the chat gallery. It's also a handy way to call phones in foreign countries with its VOIP (Voice Over Internet Protocol) "Skype calls".
Key Features:
Call recording
Get a local phone number in another country and answer calls on Skype
Live subtitles while talking
This video conferencing software, owned by Google, is a newer and a better version of the Google's Hangout app. It has all the basic features a video conferencing tool needs and levels with the main competitors in the industry. You can set up a meeting with a share link and other participants don't need to have an account or plug-in. 
It's fast and reliable and it's fully integrated with Google Suite so you can join directly from a Calendar or Gmail invite. Participants can share files with co-workers from Google Drive or other Google apps.
Key features:
Dial-in phone numbers for every meeting
Integrated with G Suite
Works with other meeting solutions too
Cisco Webex Meetings is a brand new tool but is built on years of innovation and provides simple video meetings with easy schedule and join experiences. On top of the basic video conferencing tools, like screen sharing and control, there are several cool features like background noise detection, AR capabilities, and in-app whiteboarding. Although the software is new, it's already widely used by a lot of organizations as many were already using the "Webex" precursor since 1995.
Participants can join meetings in just one click, accessing video, audio, polling, and sharing features without the need to download a single plug-in. It's remarkably easy to set up and manage.
Key features:
HD video conferencing
Platform Compatibility and Data Protection
Background noise detection
Augmented Reality capabilities
Integrated communication
Sharing desktops and documents
Do you want to know more about video conferencing? We explained the main benefits here!

1 Zoom. (2020). Video Conferencing, Web Conferencing, Webinars, Screen Sharing. Retrieved March 19, 2020, from https://zoom.us/
2 Cisco Webex. (2020, March 19). Video Conferencing, Online Meetings, Screen Share | Cisco. Retrieved March 19, 2020, from https://www.webex.com/
3 GoToMeeting. (2020). Online Meeting Software & Web Conferencing – Try Free | GoToMeeting. Retrieved March 19, 2020, from https://www.gotomeeting.com/
4 Skype. (2020). Skype | Communication tool for free calls and chat. Retrieved March 19, 2020, from https://www.skype.com/en/
5 Google. (2020). Google Hangouts Meet: online video conference calls | G Suite. Retrieved March 19, 2020, from https://gsuite.google.com/products/meet/
6 SIS Group. (2020). The Benefit of Video Conferencing Software in the Classroom. Retrieved April 13, 2020, from https://sisschools.org/blog/2020/04/the-benefit-of-video-conferencing-software-in-the-classroom/