The United Nations Sustainable Development Goals Explained
An Overview of the 17 UN SDGs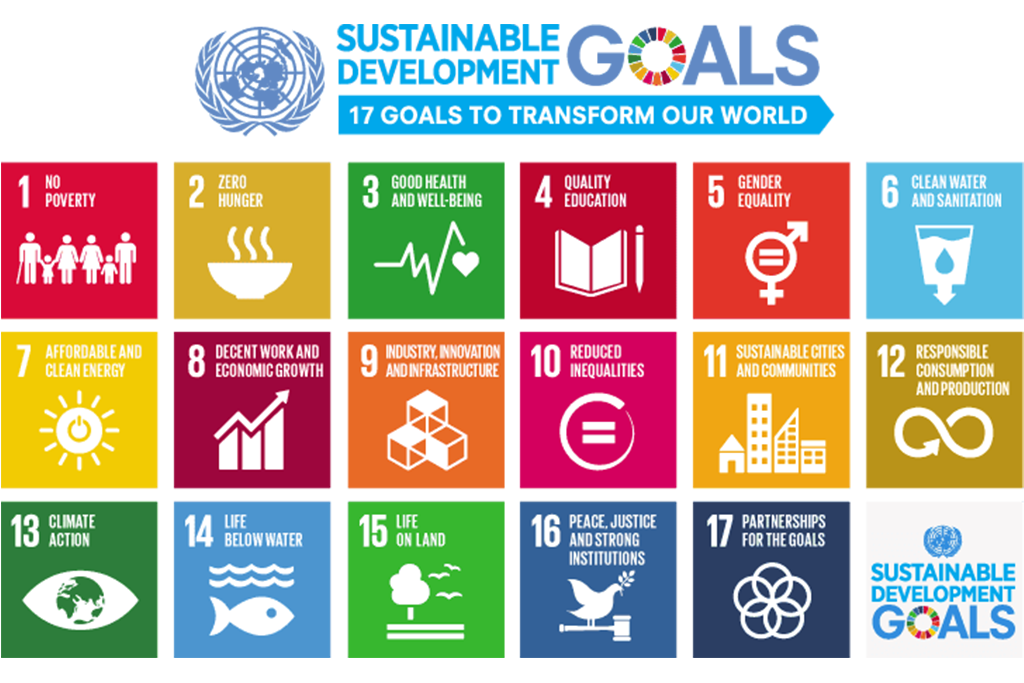 On 1 January 2016, the United Nations General Assembly created 17 global goals designed to be a "blueprint to achieve a better and more sustainable future for all". Those goals are called the United Nations Sustainable Development Goals. 
They address the global challenges we face. Not only in terms of ecology, as many people believe, but they also relate to poverty, inequality, peace, and justice. The goals are intended to be achieved by the year 2030 and are part of the UN Resolution 70/1, the 2030 Agenda.
Here we list all 17 goals and briefly explain each one.
Goal 1: No Poverty
"End poverty in all its forms everywhere."
Although extreme poverty has decreased by more than half since 1990, one in ten people still live on less than $1.25 per day. However, poverty is more than the lack of financial resources. It also includes the lack of basic services such as healthcare, security, and education.
The majority of people living in poverty are children. This can result in lost hope for an education and thus, a better income. It also affects their health, nutrition, and security. It endangers their emotional and spiritual development and causes social exclusion.
The first goal is intended to end extreme poverty by 2030. To do so, the poorest countries in the world need economic development.
Goal 2: Zero hunger
"End hunger, achieve food security and improved nutrition, and promote sustainable agriculture."
Globally, 1 in 9 people are undernourished, most of them live in developing countries. It causes wasting and contributes to deaths, especially children. 45% of deaths in children under five (3.1 million per year) are caused by malnutrition. It inhibits the development of the brain and the body forever. 
To combat malnutrition, poor countries should double agricultural productivity and incomes of small-scale food producers. We should create sustainable food production systems and improve land and soil quality. Other targets are maintaining the genetic diversity of seeds, increasing access to land and reducing trade restrictions. In order to achieve this goal, we should also work to eliminate waste.
Goal 3: Good health and well-being for people
"Ensure healthy lives and promote well-being for all at all ages."
Child and maternal mortality has decreased a lot the last few decades. Between 2000 and 2016, the worldwide mortality rate of children under five has decreased by almost 50%. Still, too many young children die today, especially newborns. Poorer children are at greater risk and sadly, a lot of people die from preventable causes. Goal 3 wants to cut down the infant mortality rate to 2.5% and the maternal mortality rate to 0.07%. 
This can be done by reducing adolescent pregnancy and providing universal coverage of skilled birth attendants. We should also try to increase access to clean water and sanitation, while reducing severe diseases such as AIDS. This goal aims to achieve universal health coverage, prevent the death of children, and end epidemics. It also includes the prevention and treatment of drug abuse, deaths and injuries from traffic accidents and from air, water, and soil pollution. 
Goal 4: Quality education
"Ensure inclusive and equitable quality education and promote lifelong learning opportunities for all."
Although remarkable progress has been made in access to education for both boys and girls, more than 22 million children miss out on education. Access doesn't always mean quality education. 103 million youngsters still lack basic literacy skills, most of them are women. In 25% of countries, more than half of children fail to meet minimum math standards at the end of primary school. 
There are two main targets of goal 4. The first is to ensure that, by 2030, all girls and boys complete free, equitable, and quality primary and secondary education. Secondly, progress needs to be tracked in an accurate way so we can create an effective learning environment for everyone.
Goal 5: Gender equality
"Achieve gender equality and empower all women and girls."
According to the UN, "gender equality is not only a fundamental human right, but a necessary foundation for a peaceful, prosperous and sustainable world."
This goal wants to make sure that, by 2030, women and girls have equal access to education, health care, decent work, and representation in political and economic decision-making processes. That will be beneficial to the economy, society, and humanity.
Sadly, gender discrimination still exists in today's societies. Humanity needs to eliminate child marriage and empower women and girls all over the world.
Goal 6: Clean water and sanitation
"Ensure availability and sustainable management of water and sanitation for all."
Worldwide, 60% of people lack safe sanitation services and 30% lack safe water services. The absence of safe services makes people sick and reduces economic productivity. It disrupts the attendance of school and work and endangers the preservation of water sources. 
To achieve this goal, developing countries will need to end open defecation and install decent toilets and sanitation facilities. They need to have access to clean water and soap. This will require cooperation between governments, civil society, and the private sector.
It's important to note that this goal is the first step to achieve many other goals. 
Goal 7: Affordable and clean energy
"Ensure access to affordable, reliable, sustainable and modern energy for all."
This goal seeks to ensure that people have access to affordable and reliable energy while also increasing the use of renewable energy globally. This includes improving energy efficiency and international cooperation. We need more access to clean energy technologies and more investment in clean energy infrastructure. 
Goal 8: Decent work and economic growth
"Promote sustained, inclusive and sustainable economic growth, full and productive employment and decent work for all."
Developed countries need a 7% annual growth in gross domestic product (GDP). This will require diversification, technological upgrades, innovation, entrepreneurship, and the growth of enterprises.
This goal also targets the reduction of youth unemployment and aims for sustainable job creation. Domestic financial institutions will be crucial in economic development.
Goal 9: Industry, Innovation, and Infrastructure
"Build resilient infrastructure, promote inclusive and sustainable industrialization, and foster innovation."
Investments in infrastructure are crucial. They create employment and contribute to the economic development of countries.
Manufacturing is an important driver of economic development and employment. At the current time, however, manufacturing value added per capita is only US$100 in the least developed countries compared to over $4,500 in Europe and North America.
Technological progress is the foundation of efforts to achieve environmental objectives. Without it, industrialization will not happen, and without industrialization, development will not happen.
Goal 10: Reducing inequalities
"Reduce income inequality within and among countries."
Although there have been many significant strides towards reducing inequality, there are still differences regarding access to health and education services.
To reduce inequality, policies should be universal and they should be paying attention to the needs of the disadvantaged populations. There needs to be more duty-free treatment and priority for exports from developing countries, as well as a louder voice for these countries within the IMF.
Goal 11: Sustainable cities and communities
"Make cities and human settlements inclusive, safe, resilient, and sustainable."
Cities enable people to improve their social and economic life. They are important for ideas, commerce, culture, and so many other things. Since more and more people live in cities, it's important that urban planning remains efficient to deal with the upcoming challenges.
Some of the challenges include congestion, lack of funds to provide basic services, a shortage of housing, waste management, and rising air pollution. Cities need to provide opportunities for all, with access to basic services, energy, housing, transportation, and much more. 
Goal 12: Responsible consumption and production
"Ensure sustainable consumption and production patterns."
Sustainable consumption and production means promoting resource and energy efficiency, sustainable infrastructure, and providing access to basic services, green and decent jobs and a better quality of life for all. It helps to reduce future economic, environmental and social costs and reduces poverty.
Material consumption of natural resources is increasing, particularly within Eastern Asia. Countries are also continuing to address challenges regarding air, water and soil pollution.
We need to have an efficient supply chain, from producer to consumer. We also need to educate consumers and change their lifestyles in order to achieve this goal.
Goal 13: Climate action
"Take urgent action to combat climate change and its impacts by regulating emissions and promoting developments in renewable energy."
Climate change is now affecting every country on every continent. It is disrupting national economies and affecting lives, costing people, communities and countries dearly today and even more tomorrow. Weather patterns are changing, sea levels are rising, weather events are becoming more extreme and greenhouse gas emissions are now at their highest levels in history. Without action, the world's average surface temperature is likely to increase by 3 degrees Centigrade this century. The poorest and most vulnerable people are being affected the most.
Thankfully, there are solutions to this problem. We need cleaner economies, and we need them fast. Renewable energy and other measures will reduce emissions and climate change. However, it is an issue that requires international coordination and cooperation. 
Goal 14: Life below water
"Conserve and sustainably use the oceans, seas and marine resources for sustainable development."
The oceans drive global systems that make our planet habitable. Our rainwater, drinking water, weather, climate, coastlines, much of our food, and even the oxygen in the air, are all provided and regulated by the sea. Throughout history, oceans and seas have been vital conduits for trade and transportation.
We need to manage this essential resource carefully for a sustainable future. However, we are not. Massive pollution and habitual overfishing has a negative effect on the ocean's ecosystems and biodiversity. 
Society has to protect marine ecosystems and regulations need to be put in place to reduce overfishing, marine pollution and ocean acidification.
Goal 15: Life on land
"Protect, restore and promote sustainable use of terrestrial ecosystems, sustainably manage forests, combat desertification, and halt and reverse land degradation and halt biodiversity loss."
Forests cover 30.7% of the Earth's surface and, in addition to providing food security and shelter, they are key to combating climate change, protecting biodiversity and providing homes for the indigenous population. 
We need to protect forests for efficient natural resource management and land productivity. At the current time, thirteen million hectares of forests are being lost every year. 
Even though up to 15% of land is currently under protection, biodiversity is still at risk. Deforestation and desertification – caused by human activities and climate change – pose major challenges to sustainable development.
We need to promote the use of resources in an equitable way and invest in the support of biodiversity. It is crucial to the sustainability of our planet.
Goal 16: Peace, justice and strong institutions
"Promote peaceful and inclusive societies for sustainable development, provide access to justice for all and build effective, accountable and inclusive institutions at all levels."
The threats of international homicide, violence against children, human trafficking and sexual violence are important to address to promote peaceful and inclusive societies for sustainable development, even though the number of cases are decreasing. 
All over the world, aggression and sexual violence against children remains a plague. Under-reporting and the lack of data is a severe problem.
We need to build peaceful societies with efficient and transparent regulations. One thing we need to do is start implementing worldwide birth registration and create more human rights institutions.
Goal 17: Partnerships for the goals
"Strengthen the means of implementation and revitalize the global partnership for sustainable development."
In order to achieve all these goals, partnerships between governments, the private sector, and civil society will be necessary. We need common principles and values, a shared vision, and shared goals. The people and the planet need to come first on every level. 
We need long-term investments by governments and the private sector, especially in developing countries. We will also need to review and monitor these frameworks and regulations.
Now more than ever, international cooperation between governments, the private sector and civil society is needed to tackle the challenges we all face. The problems exceed national borders and if we don't act now, it will be too late to ensure dignity, peace, and prosperity for our people and our planet.
Click here to discover more information about the UN SDGs.
Do you want to know how you can teach children the UN SDGs?
1 Neshovski, R. (2020, March 16). Home – 2019. Retrieved March 19, 2020, from https://www.un.org/sustainabledevelopment/
2 SIS Group of Schools. (2020, July 20). How to Teach Children the United Nations Sustainable Development Goals. Retrieved July 20, 2020, from https://sisschools.org/blog/2020/07/how-to-teach-children-the-united-nations-sustainable-development-goals/